Footwear for every situation
An essential piece of kit for the everyday rider and yard staff wardrobe, footwear… but the mission to find something suitable can be a minefield in itself… What brand? What colour? What style? What length? The options are endless and there are so many things to consider… With that in mind, we have compiled together some boots which we think will hopefully help you decide for various reasons…
One key feature to consider is the practicality, are they suitable for the style of riding/yard work you are doing?
Our go to country boot: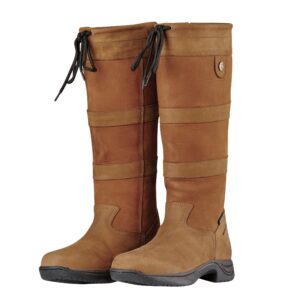 If you're looking for a boot that ticks all the boxes from affordability to practicality, for everyday riding and general daily country wear, then this is the boot for you… coming in a reasonable price of £129.99! This classic styled, waterproof long boot comes in a breathable full grain leather. It features a moisture-wicking RCS footbed system that also houses support for your heel and ankle. This combined with a double layer of cushioning, really make this boot stand apart especially for comfort.
The boots are durable, lightweight and can be used all year round. Not only that but due to the nature of the heel, the Dublin River boot can also be ridden in… so here you have an a boot that ticks the boxes in style, practicality and affordability… at that price, what is stopping you?
Our go to yard boot: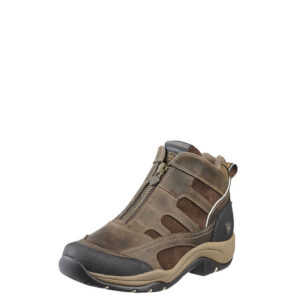 Ariat Terrain Zip H20, quite simply an all rounded short boot that will not let the weather stop your riding adventures or work around the yard. This fantastic Ariat short boot is ideal for on or off the yard, on or off the horse and for general daily activities. The Ariat Terrain Zip H20 is fully waterproof and features an oiled full-grain leather upper padded collar with an antiqued brass zip system. The waterproof membrane outside the boot and the moisture wicking lining inside the boot keeps the balance right, it ensure your feet are kept warm and dry whatever the weather throws at you. To add to comfort and support, the footbed features an EVA midsole and Duratread ™ outsole to really add maximum comfort when dealing with the demands of riding. So to clarify, the Ariat Terrain Zip H20 make a perfect pair of shoes for warmer/cooler weather yard or riding wear, you can't go wrong!
Our go to short riding boot: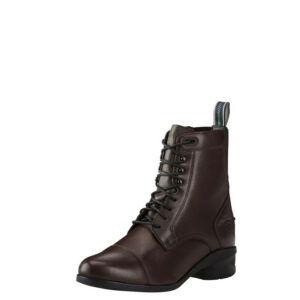 If you're looking for a smart, sophisticated piece of footwear that is versatile but also practical for riding, then this is a strong candidate for the arena… The Ariat Heritage IV Lace Paddock boot. This Ariat boot boasts a variety of features from moisture wicking properties, breathable lining and a padded topline collar to ensure maximum comfort when riding. The Heritage IV lace boot features a stabilizing lateral motion control device fitted within the sole combined with a shock absorbing heel cushion ensures maximum performance and support, making it the perfect boot when you need to be on your feet all day at a competition or for everyday riding activities. For added durability the Ariat Heritage IV Lace Paddock boot features an exclusive outsole called Duratread ™ with rider tested traction zones 4LR ™ for everyday comfort. Smart enough for the show ring, practical enough for the yard.