We are proud to announce that on the 17th July 2020 we had a defibrillator fitted at our yard, for the use of our neighbours, staff, customers and the surrounding community.
The defibrillator is readily accessible 24/7 and is located just off the B5032 off Chapel Lane in Threapwood, Staffordshire new to the main entrance of the timber yard at W Burton and Sons.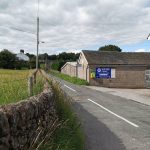 We hope that it is never used however if you are local to use or pass us regularly, please familiarise yourself with its location as you never know if you may need it.
What is a Defibrillator?…
A defibrillator (also known as a Defib or AED), is a device that can help save the life of someone experiencing a sudden cardiac arrest. They are easy to use, portable and all come with clear step-by-step instructions so that anybody can use them regardless if you have medical training or not.
A cardiac arrest can happen to anybody at any time, following these 4 steps is vital to increase the chance of survival:
Call 999- the call handler will advise where the nearest Defibrillator is and how to access it.
Commence CPR (chest compressions)
Early Defibrillation
Early Advanced Life Support
How to use a defibrillator…
If you are unsure on how to use a defibrillator, please follow the link below. The link will take you to a short online course that is completely free and it will equip you with everything you need to know about Automated External Defibrillators (AED).
https://www.aeddonate.org.uk/education-hub/
Did you know?…
80% of cardiac arrests happen outside of a hospital environment
There is a 50% increase in surviving a sudden cardiac arrest if an AED and CPR is used
If effective CPR and a defibrillator can be applied within the first 3-5 minutes of collapse the chances of survival can increase from 6% to 74%